Ok I decided to BLOG because
asshole MODs from MAL are such idiots that they refuse to justify the ban they gave me....well they can all die and go to hell fast for me because frankly I hate them for it.
Now then since this a blog I will use any means to express myself even if using French is something I like......I will use English for the general public since most of them are English speakers.
Now Angel Beats #6 works out like the following.......comments go by GIF scenes.
One thing, I never do GIF that I don't want. Only those I like.
Let's start with Oyama's part of eating chips. Found it cute and rather comical=>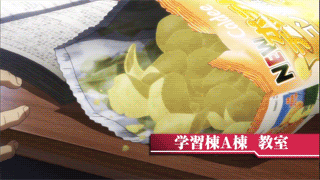 Oh dear this was in part
failure
of Yui fan service but it succeeded in being funny=>
Most likely one of hottest parts of Yuri in this episode despite being trenched in blood and wounds not the mention the other one clearly shows her breasts size with Naoi holding her but it's too bad that they did not do the bra thing when wet on her.......I am sure it would create some masturbation from fans=>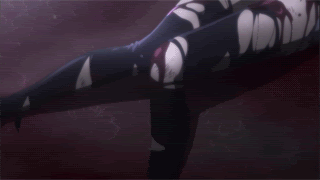 Naoi was not only nasty with his eyes having the appearance change in order for the hipnotism to be shown but
it's unforgivable of him to make Yuri suffer with shit past of her when clearly she did not want any of it to be reminded of it! Go die for that Naoi!
=>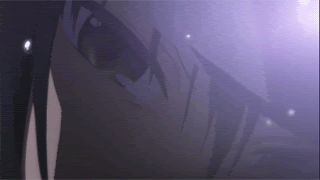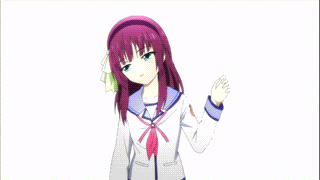 Clearly I made this for girls that like guy hugs so enjoy=>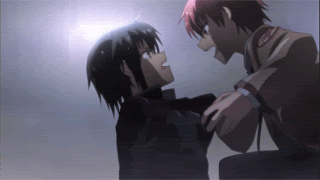 The class room gags other than Oyama trying to break to rules with snack eating continue with first Shiina doing a balancing practice as if since the GUILD episode she did not practice enough of it.....oh well still good comedy=>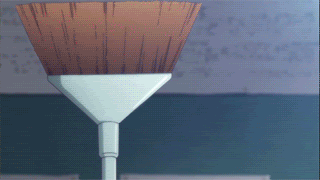 It continues with Takamatsu doing push ups
mind you I found it hilarious since I do some also!
=>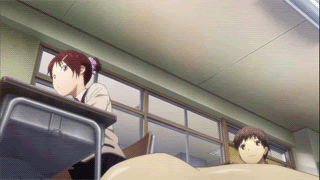 Continuing Yui's bathroom gags were less good except for her way of walking like she needed to pee again and could not hold it but to me it looked like she was a wooden robot walking kind of=>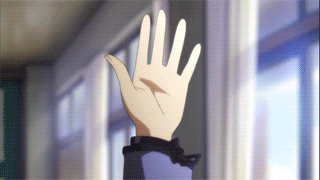 Best of best! TK saying "I'll be back! Classic of the Terminator series where Arnold started the craze originally
=>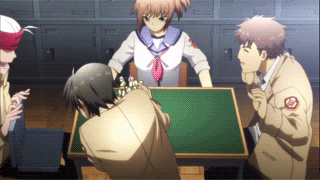 Finally Noda! Yes! That was great opposition on his part except it was pure comedy when he pointed the weapon at the wrong person in the first place so poor girl is all I can say=>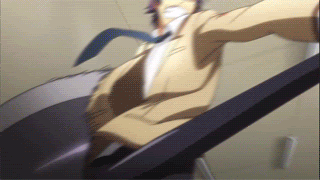 Tachibana eating was great! I liked it and found it adorable! I even made a avatar!=>
Avatar!
Found the mechanism of the door cool!=>
Tachibana yawning/sleeping was cute=>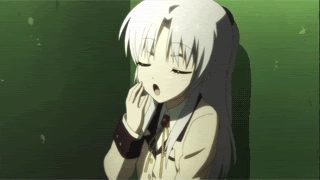 Best part that illustrates why Tenshi is the way she is with her emotions! Imagine you are nice with all and friendly but they keep dissapearing on you and you wonder it might be because you were nice to them? Or maybe that it's pointless to be like that with anyone since they will dissapear anyways and you will not. I am sure it's something like that with Tenshi and hoping Otonashi will change that in her!
=>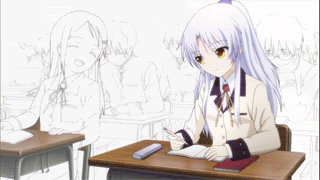 Hand Sonic Version 2....could be useful in some instances since it's faster=>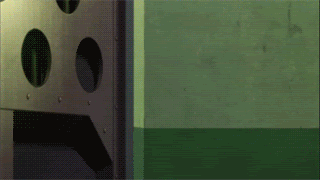 Hand Sonic Version 3......might be good for stabbing and poking=>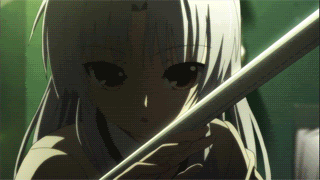 Hand Sonic Version 4.....unless it actually cuts it might be good to fake someone with it only to cut them as a surprise otherwise it's a failure! Still made a avatar! :P=>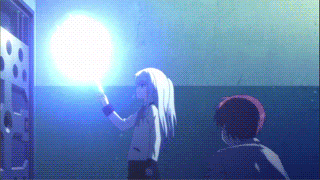 Avatar

Nice special effects of blowing up that door. Was well done!=>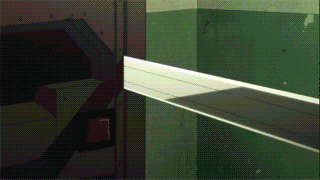 Well who cannot say it was cute the hand holding of Tenshi x Otonashi? Of course it was the best yet of all!=>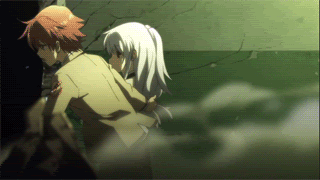 Shocking GENOCIDE is 0_0 what the heck! D: =>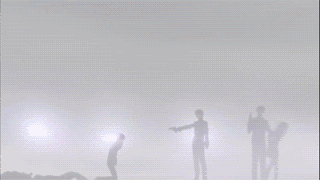 Well a good Otonashi x Hinata part no matter how you look at it. Well girls enjoy once again!=>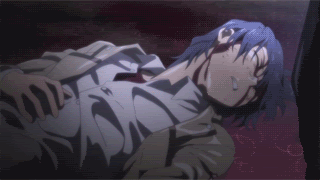 Well that's it for this stay tuned for episode 7!