Yay! Finally done also! Been so busy and episode 8 already out! O_O Got to work faster along with doing major farm work! So here we go! Ok the first thing that came into mind is Yui and Hinata! Yui was just too cute here to pass up a GIF=>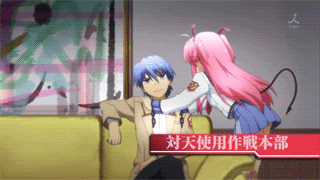 Oh yes! TK teaching Matsushita how to dance! Nice and funky!=>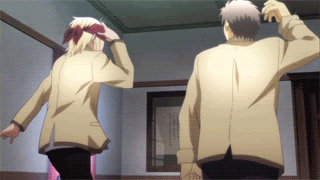 Naoi with his eye here and expression resulted in a avatar of him! :D

Hinata freaking out on a cloth pin due to Naoi using his powers on him was funny=>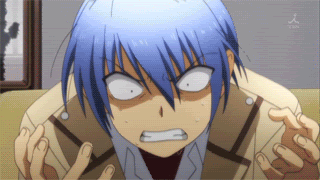 Otonashi and that slap of his on Naoi......funny and thus GIF=>
Epic Otonashi x Naoi! It was a good moment of that here mainly for all my girl fans=>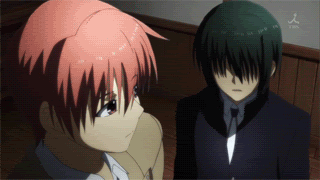 Hatsune! Otonashi's sister.....so much to say. First of the fact I know real kids like her die of cancer, AIDS and other disease made cry T_T a bucket! Also she looks so innocent and cute here! Thus I am using her avatar and give it to all else who might to use it on MAL but that's only for you guys that still are fans of my GIFs!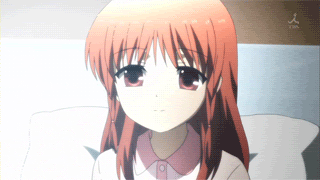 Loved her with snowflakes falling on Otonashi back when he was alive and in the real world!
Wow! Amazing background here of Christmas! Really got impressed by this! It's also sad to think that it was the last of Hatsune and of what she got to enjoy with her brother! T_T Damn drama!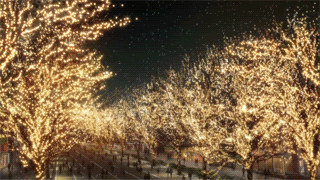 Got to admit also the Christmas tree was incredible here=>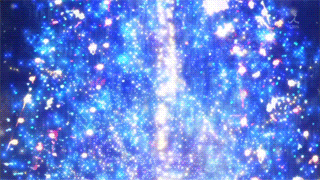 And so this is how Otonashi dies.....in a train wreck! The scene where he loses his ticket of acceptance to University kind of reminded me of Tenshi losing her meal ticket......real too bad Otonashi dying like this.....normally people survive a train wreck under certain conditions=>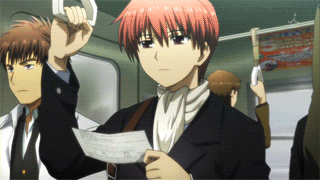 Ah damn! >_< Otonashi made me T_T also! Kind felt his emotions there=>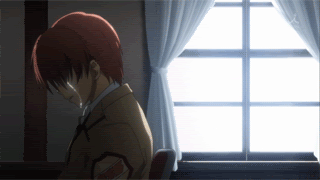 Oh my! O_O Tenshi was incredibly nice here with her hat! Thus GIF and avatar came into light!=>

Loved how Otonashi grabbed Kanade's hand here and dragged her around....getting Otonashi x Tachibana vibes here=>
Saitou here was a nice fishermen! Thus GIF=>
Shiina herself was the most interesting of all for her fish catching technique=>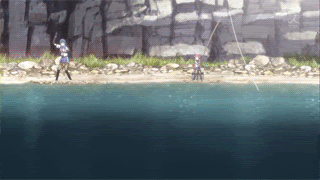 How funny it was with Tachibana's fishing learning with her first mistake towards Hinata! LOL!=>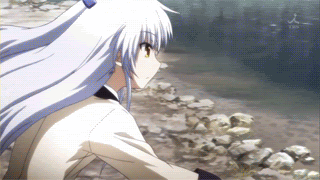 Even more funny it was with Tenshi making the mistake on Takayama! More laughs! Also liked her foot stance!=>
Yui's expressions were terrific here! Loved them and thus even avatar comes of her!=>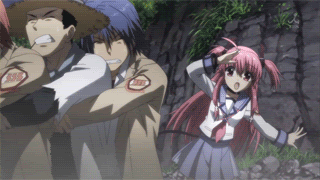 Loved setup of characters here when the Monster of all fishes comes and man he is huge!=>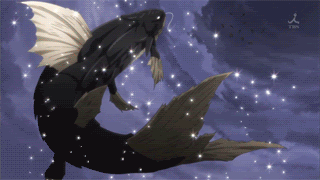 Best! Best! Best! Part of this episode with Tenshi using her harmonics power to clone herself to attack the big fish! Epic! Just really great!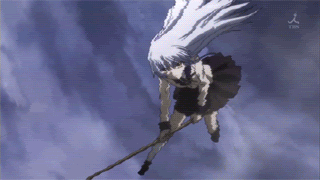 Loved how TK goes chop, chop, chop and thus avatar also of him!=>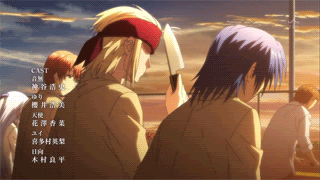 Evil Tenshi in the house and present! Her eyes are so different.....fiery red and thus full of vengeance! Also avatar of her done=>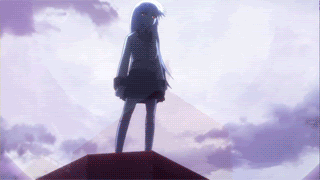 Liked another Yui expression and so GIF along with avatar of her=>

Finally nice team reaction here towards Saitou and his fish catching!=>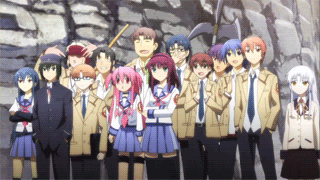 Overall it was a great episode once again!