Wow! This episode made me sweat and hurry my ass up because it had some much more GIFs ....it was frightening to make all of them with the avatars but I got them! So enjoy them all! :P First thing that came into mind with GIFs was Junichi looking at a nice sleeping Morishima and wow is she the sleeping beauty: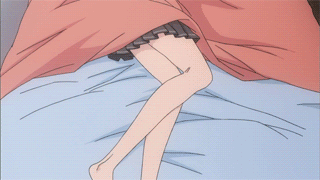 When Junichi though at one point of his first rejection during that flashback....Morishima was astonishing with the light and so GIF with avatar: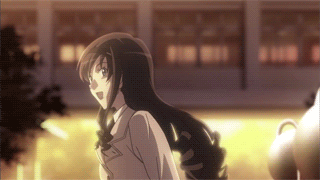 Avatar
The way it was made....as in a sudden Morishima talking with then coming like into your face was right away GIF and cool with a avatar of course :D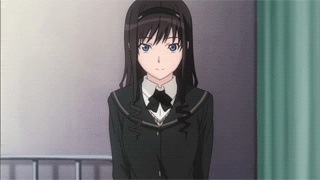 Avatar:

A thumbs with Morishima giving a wink......OMG too good so GIF:
The way Morishima was with her hands in a form of prayer with her closing her eyes and smiling.....GIF and avatar right away!
Avatar

When I saw Morishima (even though I have Sawako) in bathrobes and a towel.....I said "Holy shit!" This is unique! So GIF and avatar not to mention it looks so attractive:
Avatar
Well this part was funny simple because Junichi had a pretty wild imagination of himself in pro wrestling and so it was funny: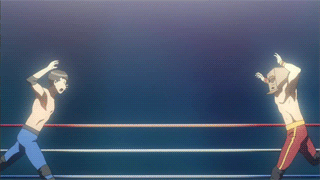 Oh how I loved
Morishima wanting to try pro wrestling here and her come on, come on! She reminded me of Ken from Street Fighters a little
with the way her hand was going and so GIF with avatar....also she was in PE clothing: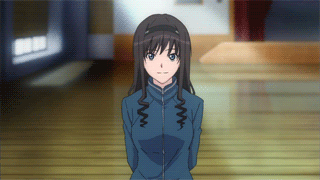 Avatar

I liked how Morishima was going " Let's just fight!" with a thrown punch here: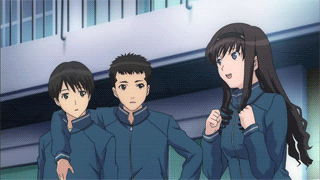 Also loved her expression here with the way she suddenly has a nice expression while turning that way and so avatar also:
Avatar

Loved it when Morishima was hand waving at the students who passed her by. Apparently she got into a lot of clubs but did not like their activity in the end so people miss her so much that they still say hello to her: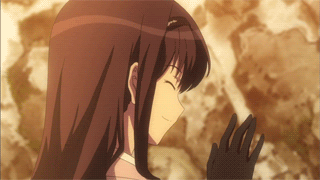 Who can resist a Morishima in her coat for fall near winter get up....not me....so reminds me of Sawako when she was also in that get up and so GIF:
Well since I liked Morishima in the above outfit....I did another GIF of her when she smiled with her eyes closing and so also a avatar:
Avatar

Hahahaaha! Junichi got thrown a paper balled up by Kaoru....she most likely wanted to cheer him up like that since 2 days he slept bad due to many things happening between him and Morishima. It was so funny still with "Butthead" thing: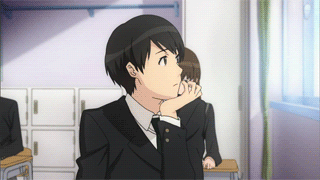 Loved her with Morishima again going for the thumbs up and saying "Yes!" Love her sudden English use here and there: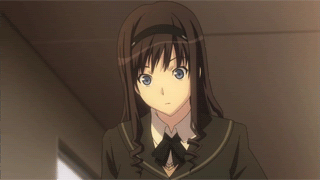 Wow! Junichi is so perverted just focusing on those three parts...just wow and so GIF of that: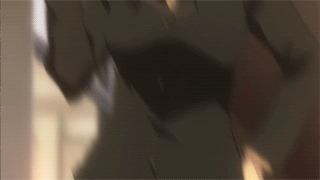 Morishima....swimming.....hmmmm cute and nice! Loved it and so GIF: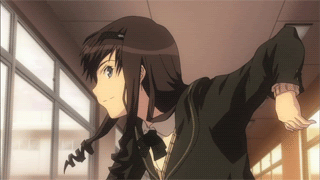 Not only did I find this part funny with Morishima but loved her pose and her expression of "Go, go go! Yeah!
So GIF and avatar that!
Avatar

A little something for you all ecchi crazy people out there! :P Swimsuit asses! From school girls:
Kind of liked for once Junichi here with his expression...shows his libido as a man and shyness too and so GIF with avatar:
Avatar

I know you all want! I also know you will stare at it and I know my Sawako has a perfect body like that too! So enjoy it and damn is Morishima perfectly shaped: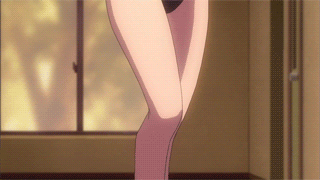 Exceptionally Ai since I liked her intro in this episode more than anything as another girl and so GIF: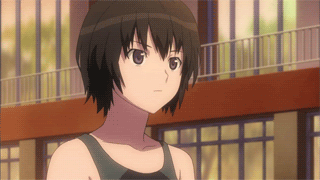 I liked the way not only Morishima was in a swimsuit but her expression too here: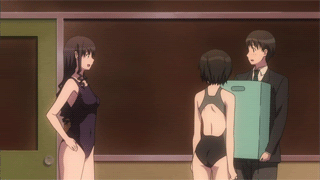 Although Hibiki is not to be messed around with eyes like that of hers:
Oops....guess I forgot the original here but hey it was funny yet strange pose/expression of Junichi...almost like he was doing the garbage can itself:
If there is another nice one of Junichi it's his affirmation and salute here towards Morishima and so avatar of that also: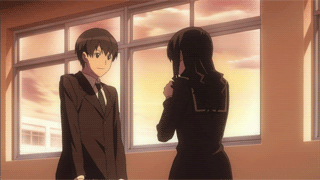 Avatar

Another nice hand waving of Morishima and so GIF with a avatar of that: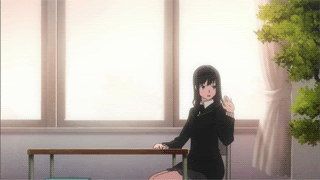 Avatar
Another nice expression of Junichi while being with Rihoko and so GIF with avatar of that part:
Avatar

Just plain and simply loved Morishima's expression here once again: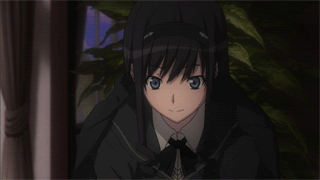 BEST AND BEST PART! Simply amazing! Loved it so much! This is what romance should be in anime and not the fake ecchi I see too often IMO and so GIFs!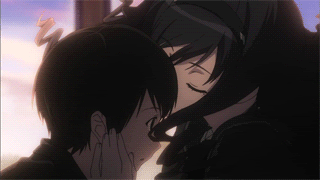 Loved Morishima's expression here!
Wow! O_O I am beat but for all my friends out there! Enjoy the GIFs....it was one hell of a time doing them since there were so many! :D