I got some time to do GIFs of this series. I will say that this series is magical and surreal. It will be interesting to see where it goes and what it might involve with its magical elements and so here I go. The first GIF that came into mind was one of Carina Verritti, which has a family name easier to spell for me in French:
Naturally came Agnes Boulange, which also has a French terminology....interesting character that uses Automatons as puppets that consume Ale, a fuel proper to the series....I though at first the puppets where magically controlled but they are not only.....looks like they are some sort of machines too: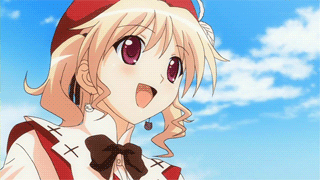 Also another GIF of Agnes with a avatar this time around: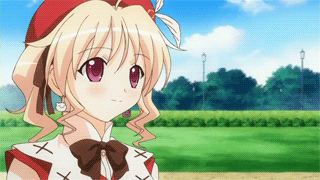 Avatar
Carina's laugh was a good mood swinger and so GIF with avatar: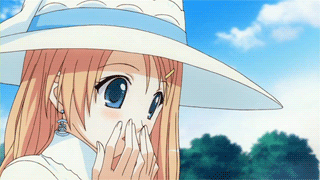 Avatar

I happen to like TWINS in anime and so Salsa and Ritos Tortilla were no exception in this part.....I like Ritos the younger one more since she looks to be the quiet one compared to Salsa and wanted to marry Leicester:
That was a rather surprising light fan service of Salsa with a leg exposure feature: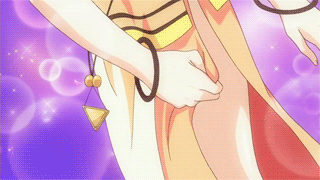 A funny part GIFed of the whole gang with Arcot Chelsea being the only confused until she realized the whole mood of the situation.....it was a pretty funny one as all seem to be in chibi form: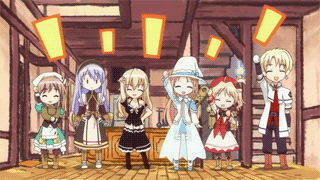 Shelley, Leicester's mom, is quite the MILF so to say. She looks to be attracted to her own son......not sure if in a serious way or just teasing. One thing for sure is that she is
hot and has a young body for her age.
So GIF of her and for sure avatar too! :D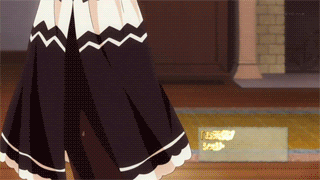 Avatar

I kind of found a eternal walking up the stairs with a Carina expression deemed of a princess that she is with her noble status while Leicester holds her hand and so GIF: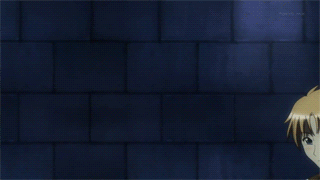 Meteor shower that happens every 7 years would be quite something to see IRL should it happen like it is here and so GIF since it impressed me the way it was shown:
Another nice show of the twins on the roof watching the meteor shower....liked and so GIF part of it..especially with their expressions:
Well that's it and soon episode 2 since it just came out!