Episode was pretty disturbing for the first half. I will make myself clear! I never liked the groping part! I don't care about the shit ass excuse the brother had nor accident or circumstances! Only thing I liked was Kirino's panties, bra and body composure namely stomach! That's it and that's all! I do give Kyousuke props for saving Kirino's reputation from her friends to find out she likes hentai stuff. Anyways on the comments by episode parts........
First thing to notice is the new things they added in the OP namely........
The first DVD Kyousuke found of Kirino that changes into 2 different facades here=>
Then changes into Siscalypse one here=>
Another thing in the OP is the different background when Kirino runs that shows up here=>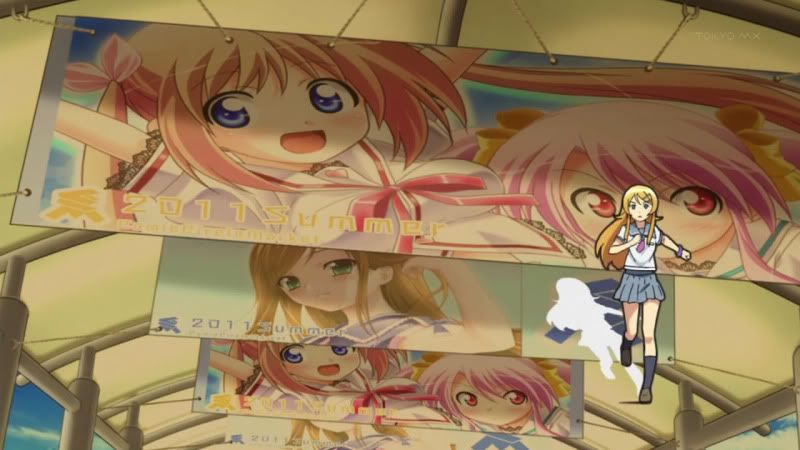 Furthermore the convention's place in the background here=>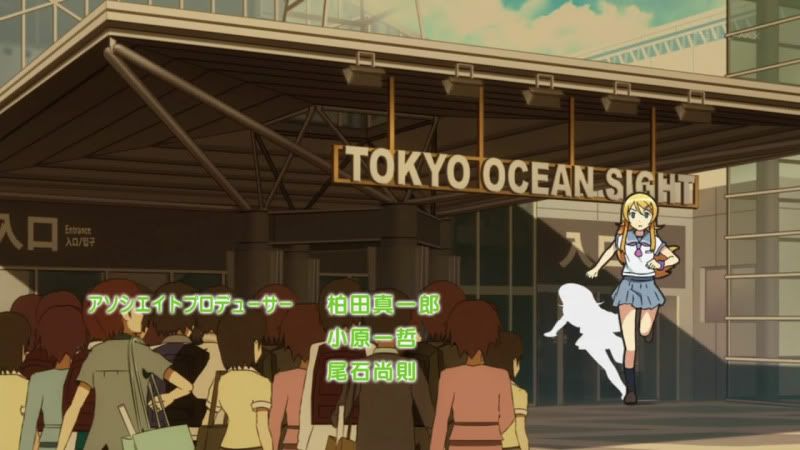 Finally the computer screen of which I am not sure if it's the same but here it is=>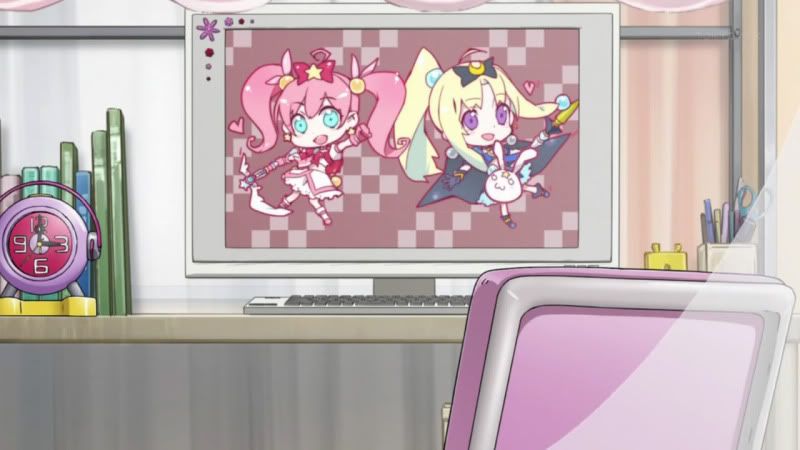 Onto the beginning of the episode itself........
First thing that catches my attention is the magazine that Kirino is reading here=>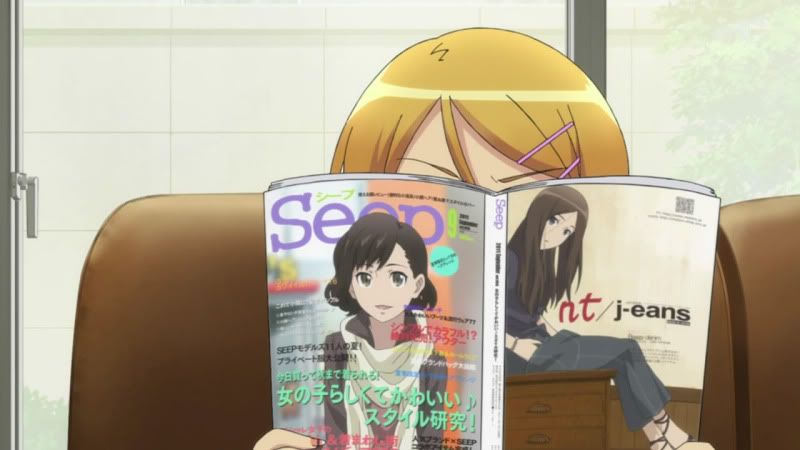 Kirino's nail manicure is lovely and so are her legs here=>
Her feet are lovely here too=>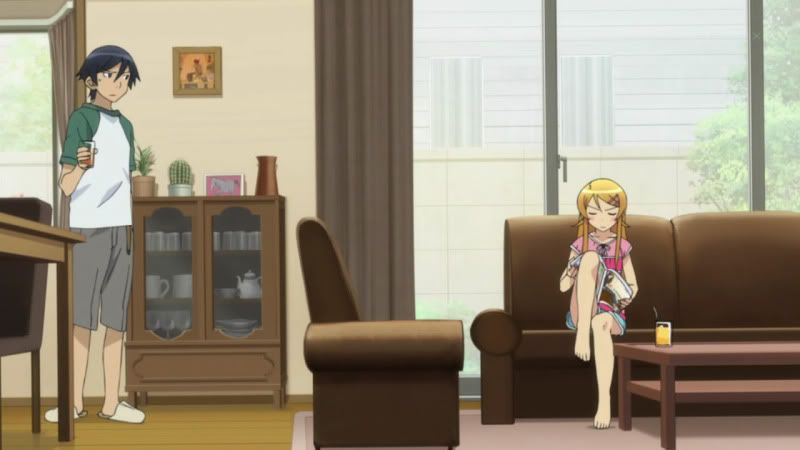 Surprise and surprise at what Kyousuke finds out on the laptop of Kirino....a link to Siscalypse itself here=>
The layout of the site itself and game is not bad itself here=>
Notice the mouse pad here of Shiori here which is pretty nice=>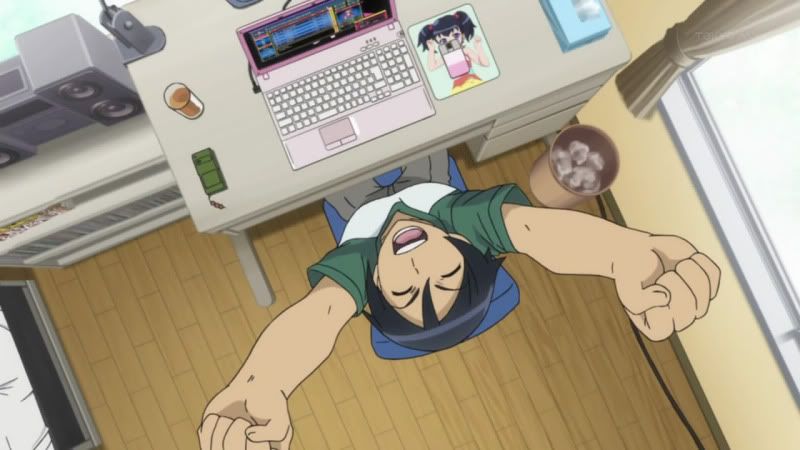 I also found neat the different expression changes of the avatar of Kirino when she chats around her site with most likely Saori here=>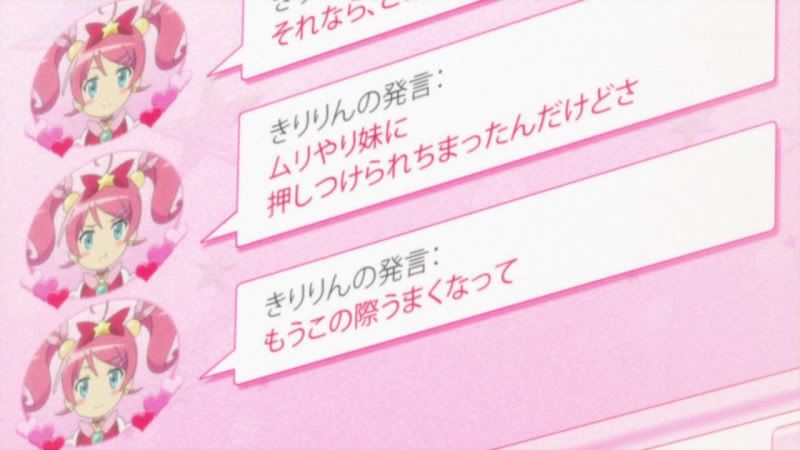 Oh my! Who is that on the phone! It looks like Saori! I also noticed she has a interesting phone attachment here=>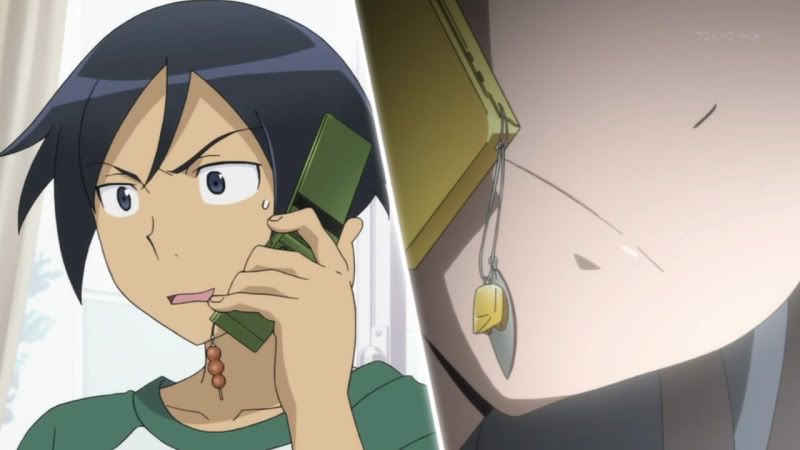 I liked Ayase's clothing style with her cross and also liked Kanako's neck choker! Here=>
Game itself looks not bad with its concept here (personally I like much Street Fighter 4)=>
OMG! WTF? The game is kind of like Stripper fighter where the person you beat gets their clothes torn off? Here it is obvious=>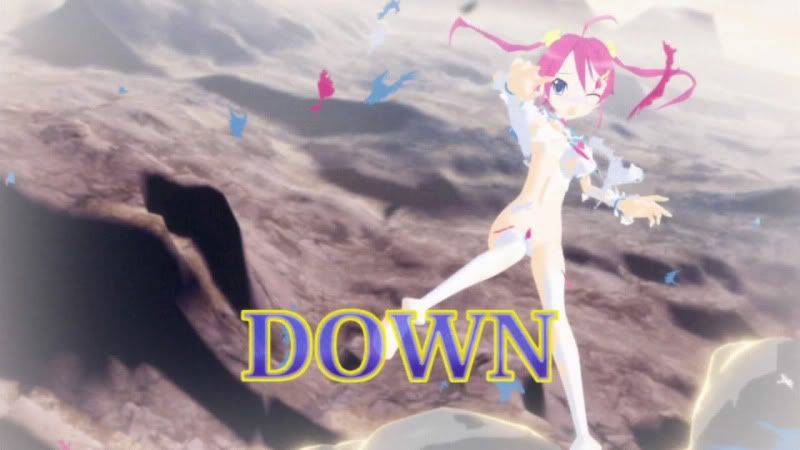 Looks Saori told Kyousuke the content of the box is hentai so it's time to grab it before it's too late! Good thing too because from the looks of this they almost opened it=>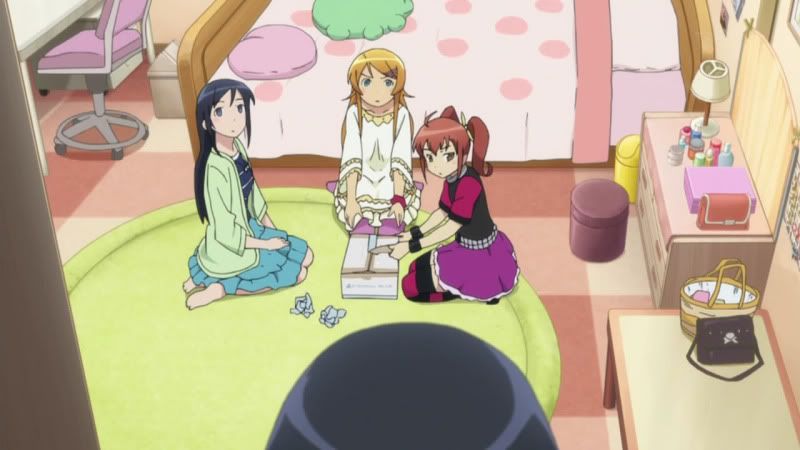 I do like the angle they show of Kanako here due to it revealing more of her clothing style such as the belt being the same style of the neck choker and the black bracelets she is wearing=>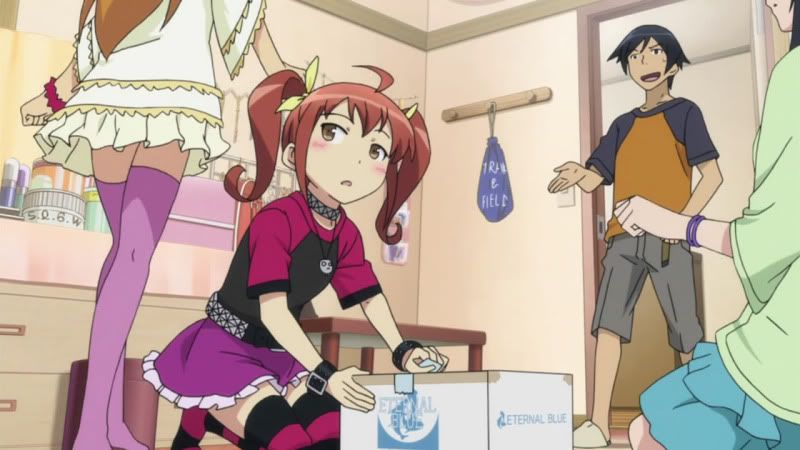 Looks like Kirino is ready to jump like a wild cat on Kyousuke to grab back that box! Here=>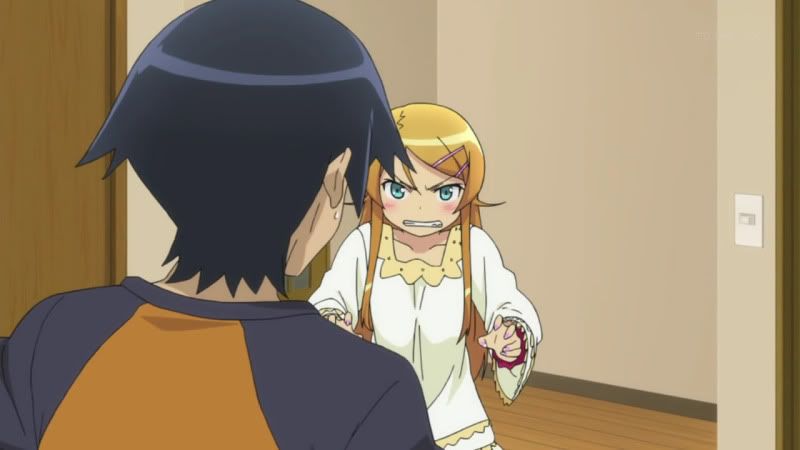 HOLY SHIT! Kyousuke by accident is a position that his knee is touching Kirino's virgin vagina through the panties! WTF! Fan service galore! Although I do like the red bow-tie ornament here=>
Even groping the breasts! WTF Japan! WTF! You exposing me to incest shit! WTF! OMG! YOU WILL NOT BRAINWASH ME! Seriously I feel brainwashed with all this to add to Yosuga no Sora's effect. Good thing my sister is older than me! In any case the bra looks expensive here=>
Kyousuke....you are so busted! Ayase and Kanako see it all! OMG you are in shit! Here=>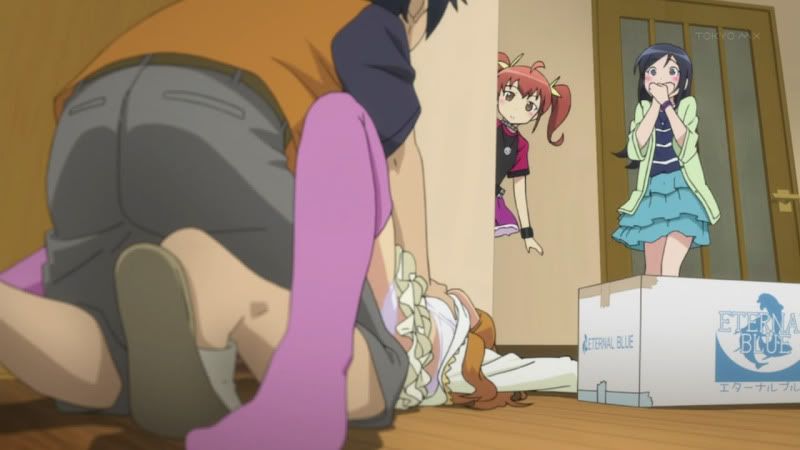 It's obvious that Kanako is more disgusted here than Ayase is=>
This is the key point here! Ayase approaches Kyousuke to reason with him and that makes things interesting!=>
Now I noticed how impeccable her manicure is here=>
Also the manicure on her feet as well as her feet themselves are lovely here!=>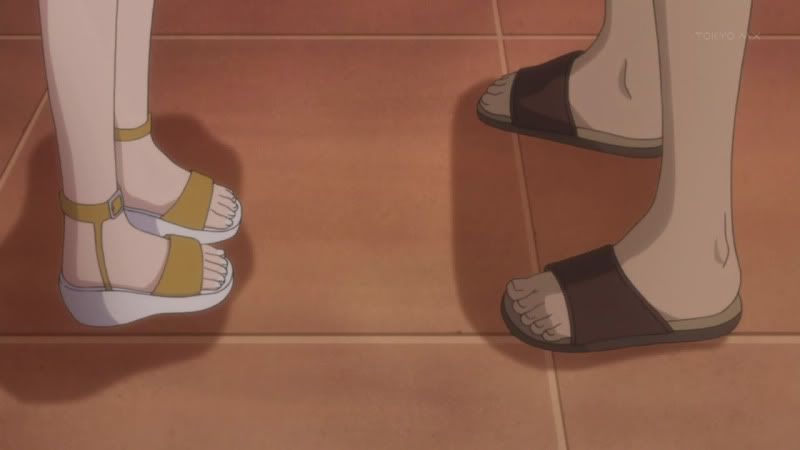 The phone number exchanging between Kyousuke and Ayase was of the most vital to a new friendship! I also know that Kyousuke seems to have a crush on Ayase from his blushing earlier on!=>
The two contents that were revealed of the box itself were this one=>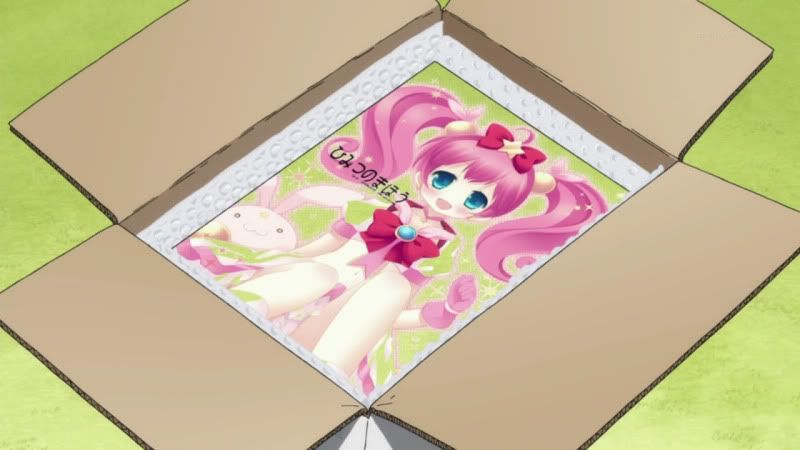 and obviously this one was the obvious hentai and no I never seen any but it's obvious I heard enough to say this one is tentacle type=>
INTERMISSION!
This type it's the following that showed up=>
Second part!
Looks it focuses of all on the comic convention! It starts with Kyousuke getting props for wearing a pink shirt! That's nice!=>
I noticed that the elbow given to Kyousuke by Kirino was nasty but also the pink PSP here=>
About the cars......
Not sure the one with Meruru looks like a Subaru Outback here=>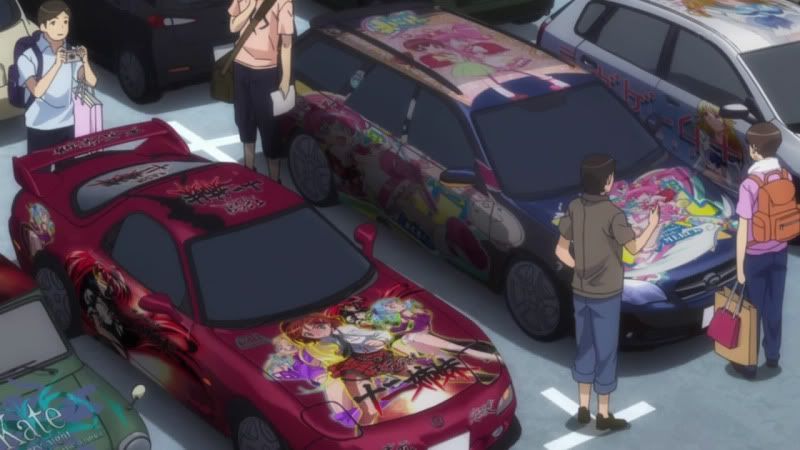 I am 100% sure the red one is a Mazda RX-7 FD as well as the green one is mini cooper old school type here=>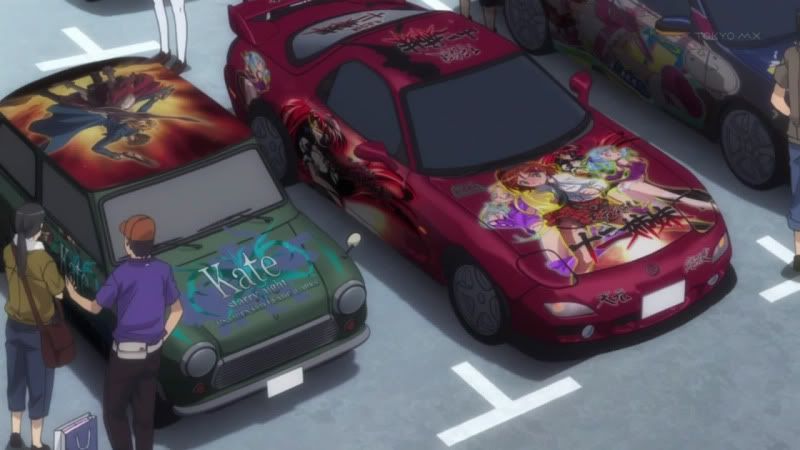 Got to love Kuroneko's cat ears here=>
You can see here how big the convention really is and the crowd=>
The guy behind Saori here......looks kind of a cameo with his weird device on the head=>
The style of the drawing of the poster to the far right reminds me sort of Hanamaru kindergarten here=>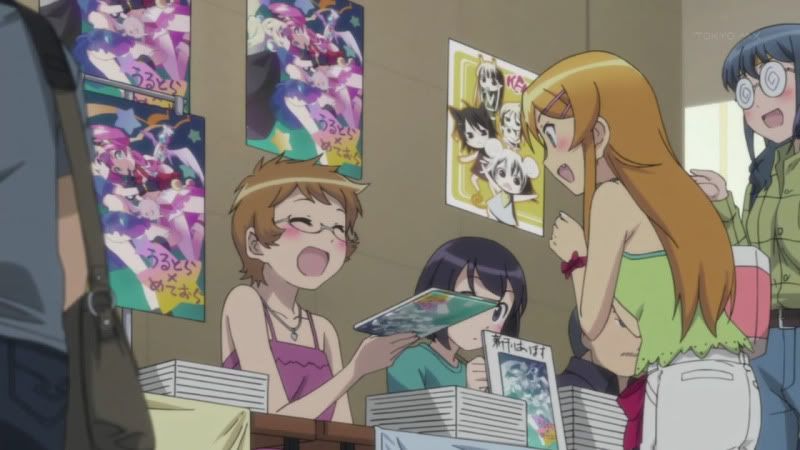 ROFL @ Kyousuke's face here when he discovers hentai manga and also the maid looks familiar from the coffee shop itself but still looks cute!=>
Looks like somebody dressed as one of the pillows that Kirino owns here=>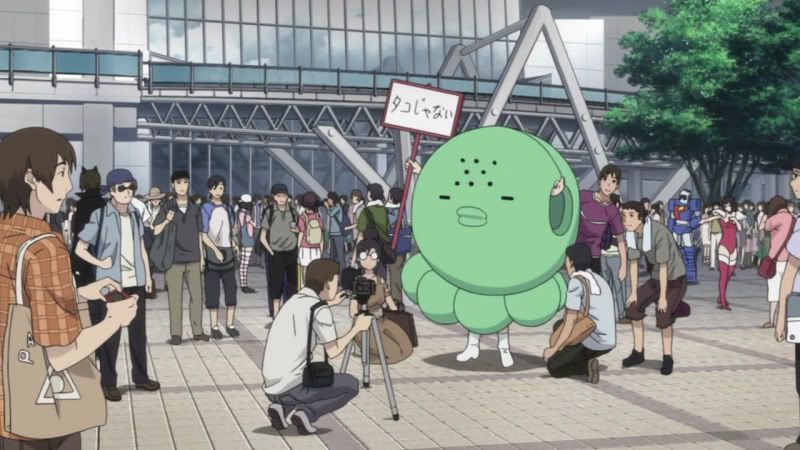 OMG! I love, love and love Kuroneko's outfit like she is here.....the white dress with her arms exposed looks fantastic on her!=>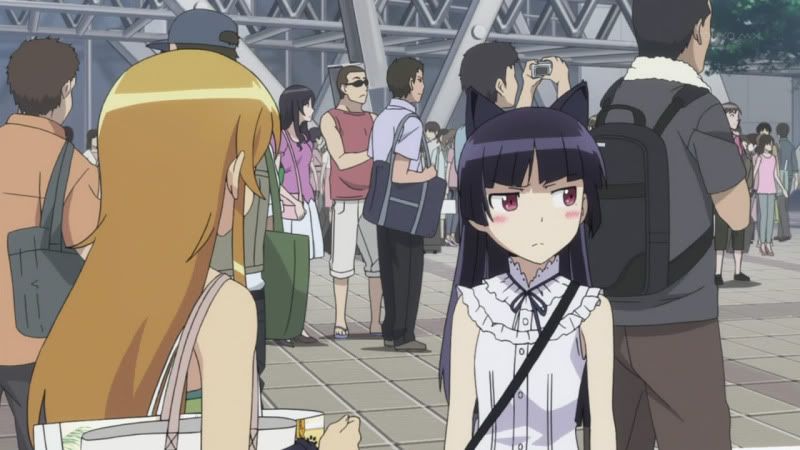 We have a new comer here but do wonder who she is!=>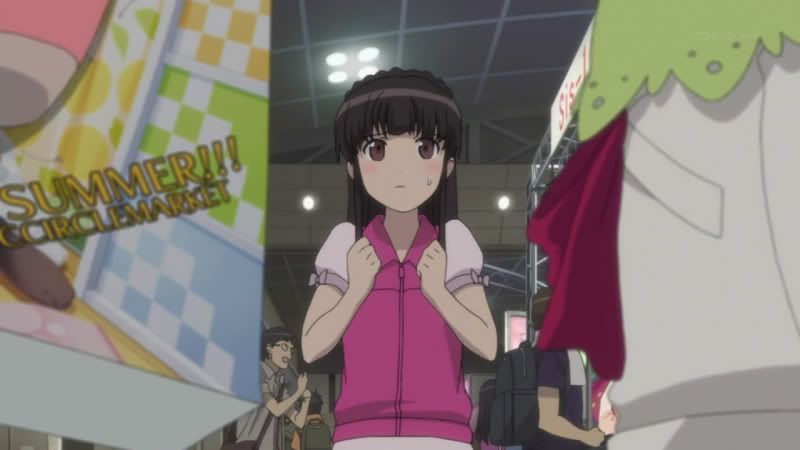 The very tempting prizes of Siscalypse here=>
The fight that wins it all...Reika VS Reika! Here=>
Wow! Of all people Kuroneko wins that game! WTF! Who knew she was good!=>
The beautiful prize itself=>
WTF! Kuroneko gives it to Kirino! WOW! Now that's friendship! Amazing really! Such a nice collector's item! Very impressed by such a gesture at this part=>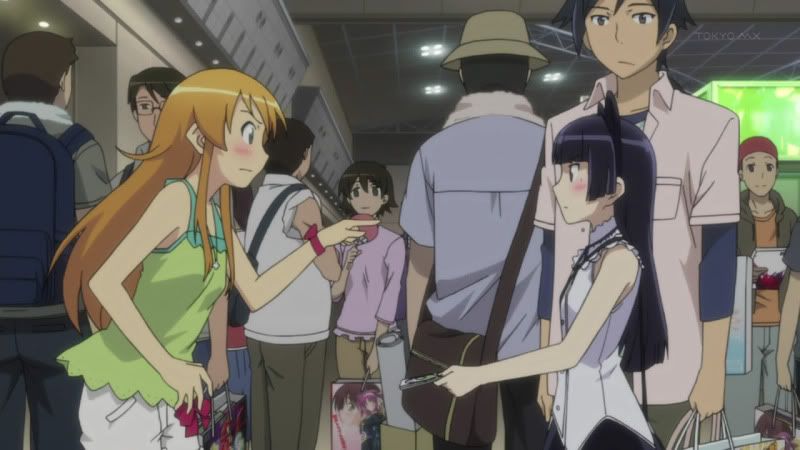 Shocker end!
Kirino meets Ayase at the convention? WTH is going to happen in #5! Oh I want to find out as much as all of you!=>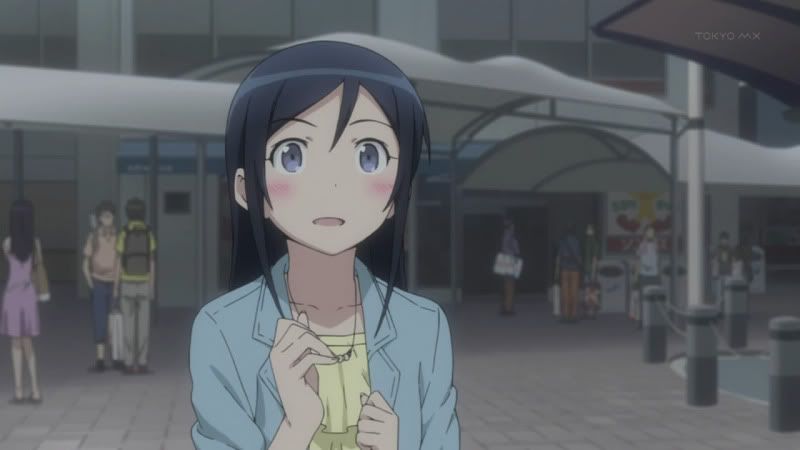 About the ED!
Splendid music! Amazing visuals! Among them.......a color changing render of Ayase which is beautiful here!=>
A real view of the building they went into for comic convention...guess it exists IRL here=>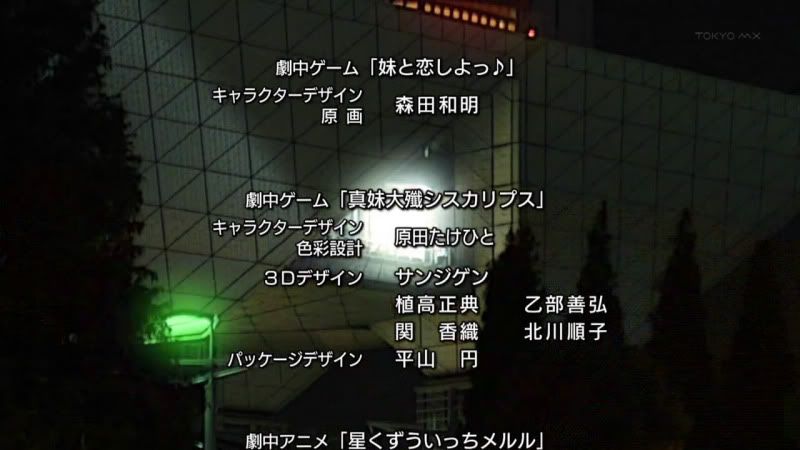 The Ayase render with no credits!=>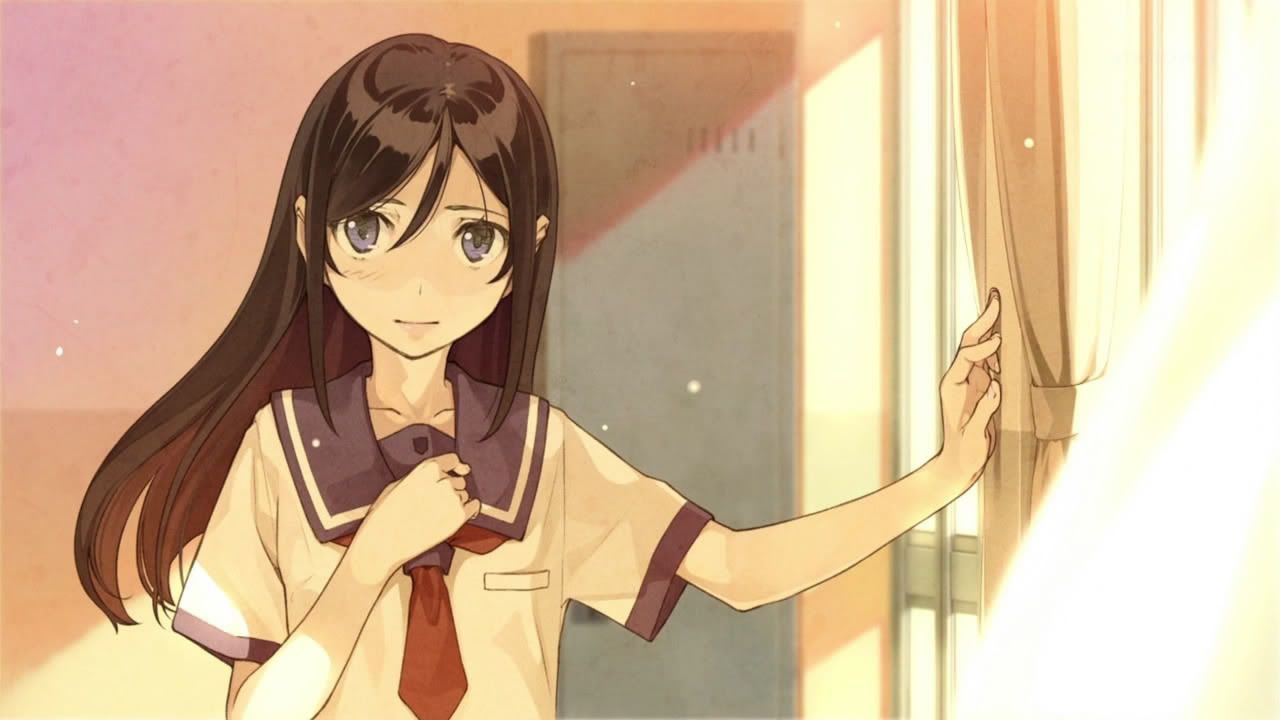 Well that's it! Have fun! Remember you can click on the pics and make them bigger!